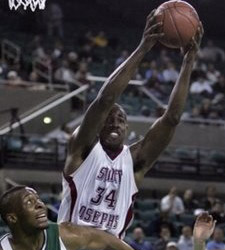 Ahmad Nivins of Saint Joseph's is the Herb Good Club's Big 5 Player of the Year.
HERB GOOD CLUB NAMES NIVINS BIG 5 PLAYER OF THE YEAR
April 10, 2009
Ahmad Nivins of Saint Joseph's has been voted the Philadelphia Big Five's Outstanding Player of the Year by the Herb Good Basketball Club. He will receive the Robert V. Geasey Trophy at the Club's 64th annual banquet on Monday, April 13, 2009 at The Savoy (formerly the Woodbine Inn), 1444 Route 73 North, Pennsauken, N.J.
Joining Nivins on the All-Big Five first team are Villanova's Dante Cunningham and Scottie Reynolds, Temple's Dionte Christmas, and La Salle's Rodney Green.
The second team includes Temple's Lavoy Allen and Ryan Brooks, Villanova's Corey Fisher, Dwayne Anderson and Reggie Redding, and Tasheed Carr of Saint Joseph's.
Tickets for the banquet can be reserved by calling Casey Heverling at the Big Five office (717 304-9277) or Al Shrier at Temple University (215 651-1821).