Big 5 and NCAS host leadership seminar
Oct. 4, 2010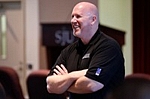 The Philadelphia Big 5 in conjunction with the National Consortium of Academics and Sports (NCAS) hosted an educational workshop on the topic of Leadership Saturday, October 2, on the campus of Saint Joseph's University for the Men's and Women's Basketball programs of the Philadelphia Big 5.

Over 200 Philadelphia Big 5 Men's & Women's Basketball student-athletes, coaches, and administrators from La Salle University, Temple University, Saint Joseph's University, Villanova University, and the University of Pennsylvania participated in the annual event.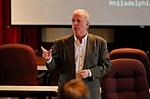 Following a brief luncheon, guest speakers Jeff O'Brien and Dr. Shannon Spriggs facilitated the presentation, which focused on the topics of leadership and personal brand awareness.
O'Brien is the Director of Mentors in Violence Prevention for the NCAS while Dr. Spriggs serves as the
Assistant Director of Mentors in Violence Prevention.

The Philadelphia Big 5 is the sponsor of the Mid-Atlantic Region for NCAS. The Mid-Atlantic Region includes approximately 30 schools from Pennsylvania, Delaware, Maryland, and Washington D.C.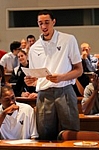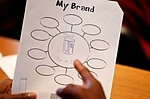 La Salle University's Director of Athletics, Dr. Tom Brennan, is the Director of the Mid-Atlantic Region and was pleased with this year's workshop.

"The interaction and overall response to the presentation was great, and I think the student-athletes really enjoyed the afternoon," said Brennan.
"I believe the student-athletes learned valuable leadership tools and strategies that they will take back to their teams, schools, and communities."