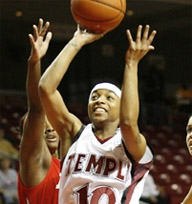 LaKeisha Eaddy scored 16 points in Temple's win over Rutgers.
Big 5 names Players of the Week
December 7, 2009
Men's Player of the Week
The Philadelphia Big 5 has named Scottie Reynolds (Sr., G) of Villanova its Men's Player of the Week. The senior from Herndon, Va., scored 14 points, collected eight rebounds (tying a career high) and added six assists in VU's 77-58 win over Drexel on Wednesday and followed that with a 25-point, eight-assist, five-rebound effort in a 95-86 win over Maryland at the BB&T Classic. Reynolds was named most outstanding player at the BB&T Classic. For the week, Reynolds averaged 19.5 points, 7.0 assists and 6.5 rebounds per game.

Honor Roll
• Rob Belcore (So., F) of Penn earned a spot on the Honor Roll for his defensive performance Friday night at Navy in Penn's 73-67 loss to the Midshipmen. Defensively, he was assigned to Navy's Chris Harris, and he held the Middies' leading scorer 10 points below his 21.8 scoring average until the final minute (Harris hit five foul shots in the final 45 seconds to end the game with 16). At the other end, Belcore scored 12 points and had five assists with only one turnover. He also had four rebounds in the game.
• Kimmani Barrett (Sr., F) of La Salle averaged 19.0 points, 6.0 rebounds and 2.0 assists in a 2-0 week for La Salle. He shot 12-27 (.444) from the field, 8-15 (.533) from three-point range and 6-8 (.750) from the free throw line. Barrett set career highs in points (25) and three-pointers (5) in La Salle's 75-62 win over Hartford on Sunday. 
• Ryan Brooks (Sr., G) of Temple averaged 18.0 points in two games for the Owls. He had 17 points to lead Temple against Western Michigan and then netted a game-high 19 in the team's win over Penn State. Brooks also averaged 8.0 rebounds per game, including 10 against Western Michigan.
Women's Player of the Week
Temple's LaKeisha Eaddy (Sr., G) was awarded Big 5 Women's Player of the Week. Eaddy led Temple with 16 points as the Owls earned a big win on the road at Rutgers, 62-51. Eaddy shot 66.7 percent from the field (6-9) including 2-3 from three-point range, and added three assists. She also recorded one steal and two rebounds. The win was Temple's first over Rutgers in Eaddy's career.
Honor Roll
• Antonia Gale (Sr., G) of La Salle averaged 13.0 points, 8.0 rebounds and 2.0 steals per game for the Explorers in a 1-1 week, which also helped them end their five-game losing streak. She scored a career-high and game-high 18 points and pulled down eight rebounds in La Salle's loss to Georgetown, making 11-13 from the free throw line (career highs). She then scored eight points and had eight rebounds to help La Salle defeat defending CAA champion Drexel on Saturday. Her three-pointer with 1:40 left put the Explorers up eight, sealing the contest.
• Jess Knapp (So., F) of Penn had a career week. She had a career-high 13 points in a 62-56 loss to Lafayette. In addition to her 5-12 shooting she also had six rebounds and a career-high-matching two blocks in that game. Four days later against Navy, she set new career highs in points (16), rebounds (9), blocks (3), and steals (3). She also tied her career high in assists with four. Knapp led the team in all those categories on 7-12 shooting. For the week, she averaged 14.5 points, 7.5 rebounds, 2.5 blocks and 2.0 steals. 
• Ashley Prim (Fr., G) of Saint Joseph's posted back-to-back career highs in scoring, tallying 12 points against Hartford and then 14 in a win over George Mason on Sunday. Prim averaged 13.0 points, 3.5 assists and 2.0 steals per game for the Hawks. She made 9-12 field goal attempts and 7-9 from the free throw line.