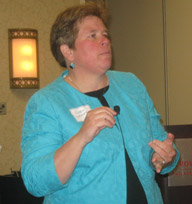 Karen Weaver was one of the presenters at the NCAS Mid-Atlantic Conference.
NCAS hosts annual spring Mid-Atlantic Conference
April 16, 2010
The National Consortium for Academics and Sports hosted its annual spring Mid-Atlantic Conference on Friday, April 16th at the Crowne Plaza Philadelphia West. The theme of this year's conference was "Social Media and Intercollegiate Athletics." 

The NCAS Mid-Atlantic Chapter's Spring Conference attracted approximately fifty athletic administrators, staff members, and students. The conference included lunch, presentations and breakout sessions for participants to discuss social media issues at their respective institutions.  The conference opened after lunch with a welcome and introduction by NCAS Mid-Atlantic Region Director and La Salle University Director of Athletics, Dr. Thomas Brennan. 

Dr. Karen Weaver, the Director of Athletics at Pennsylvania State University-The Abington College, spoke on "Utilizing Social Media to Promote Your Athletic Programs." Dr. Weaver was the key note speaker at the event, which was of particular interest to athletic communication and marketing staff members, as well as all individuals working directly with student-athletes.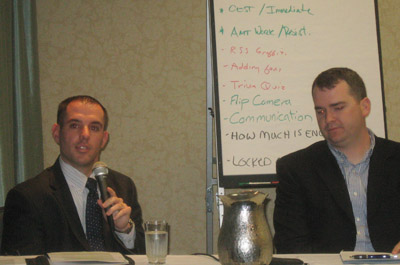 In attendance was Philadelphia Big 5 Assistant Director, Brett Burchette, who helped moderate the spring conference.  Big 5 Media Relations Directors:  Kevin Bonner, La Salle; Jack Jumper, 
Saint Joseph's; and Michael Mahoney; University of Pennsylvania; led breakout sessions discussing with conference participants the topic of how athletic departments are currently utilizing social media.  The day ended with a panel discussion with HR professionals from Drexel University:  Mark Gress and Michael Porta, who discussed current trends and advice for employers and job-seekers regarding social media.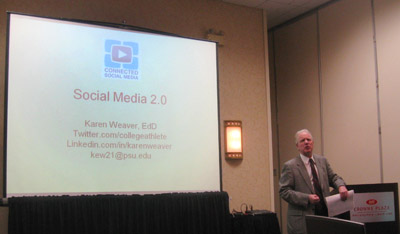 Participating institutions included:  La Salle University, Villanova University, Saint Joseph's University, University of Pennsylvania, Holy Family University, Widener University, Seton Hall University, Temple University, Swarthmore College, University of the Sciences in Philadelphia, Drexel University, and Haverford College.

Prior workshops sponsored by the NCAS for its Mid-Atlantic Region members have included:  MVP (Mentors in Violence Prevention) Awareness, MVP "Train the Trainer" Program, Academic Support Training, and Diversity Workshops.

The mission of the NCAS is to create a better society by focusing on educational attainment and 
using the power and appeal of sport to positively affect social change. The Mid-Atlantic Region 
of the NCAS is headquartered at the Philadelphia Big 5 office located at the University of 
Pennsylvania.