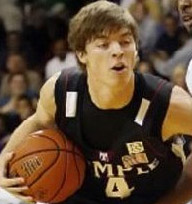 Temple's Juan Fernandez averaged 21.5 points in a 2-0 week for the Owls.
Temple sweeps Big 5 honors
Dec. 14, 2009
Men's Player of the Week
The Philadelphia Big 5 honored Juan Fernandez (So., G) of Temple with the Big 5 Men's Player of the Week award. Fernandez averaged 21.5 points, four assists, and two rebounds per game over a week where the Owls went 2-0. Against Big 5 foe #3 Villanova on Sunday, he scored a career-high 33 points, as well as a career-best seven 3-pointers as Temple defeated the Wildcats 75-65.
Honor Roll
• Rodney Green (Sr., G) of La Salle led the Explorers to a 1-1 week, the loss resulting from their matchup with Kansas, the #1 ranked team in the country. Against Rider on Wednesday, he scored a season-high 25 points along with 11 assists.
• Scottie Reynolds (Sr., G) of Villanova scored 22 points with five assists and six rebounds as the Wildcats defeated Saint Joseph's 97-89. He put up another 23 points as Villanova fell to Temple on Sunday.
• Zack Rosen (So., G) of Penn had 16.5 points and two rebounds per game along with 11 assists on the week. Against Albany on Tuesday, he racked up 10 points, five assists and two steals, followed by a 23 point, six assist, and three rebound performance against Monmouth on Saturday.
• Lavoy Allen (Jr., F) helped Temple to a 2-0 week with 15 points, seven rebounds, four assists, and a block against Miami on Tuesday. He also added 10 points, 17 rebounds, three assists, and two blocks as the Owls defeated Villanova in a Big 5 matchup on Sunday.
Women's Player of the Week
Temple's Jasmine Stone (Sr., F) was awarded Player of the Week on the women's side. She led the Owls to a 3-0 week with 12.3 points and 13 rebounds per game. Against Hampton on Tuesday, she put up 15 points and a career-high 19 boards to lead the Owls to a 54-51 victory. She followed this up by tallying six points and 10 rebounds as Temple defeated Ohio, 65-43. To complete the sweep of the week, she scored a double-double, complete with a career-high 16 points and 10 rebounds in a 68-63 win over Kent State. She also racked up six blocks, four steals, and three assists.
Honor Roll
• Laura Sweeney (Rf., F) of Villanova averaged 12.5 points and four rebounds per game as the Wildcats went 2-0 on the week. She shot 83% from the field along with 71% from the line throughout Villanova's two victories.
• Brittany Ford (Sr., F) of Saint Joseph's scored a career-high 25 points against Drexel on Sunday. She also led her team in scoring in both of the Hawks' games this week.
• Kim Adams (Jr., G) of Penn came off the bench to score a season-best 19 points for the Quakers against in their 66-53 loss to Rider on Saturday. She also came up strong defensively as she tied a career-high two blocked shots.
• Jamie Walsh (Sr., G) of La Salle tallied a game-high 17 points, along with three rebounds, an assist, and a steal, in the Explorers' 54-46 loss to Delaware on Sunday, falling just one basket short of her career-high with five 3-pointers scored.